Friday, February 22nd, 2008 by Miss Laura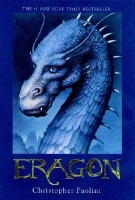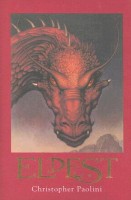 Well, if I'm going to be hauling my aging lazy bum to the bookstore to host a midnight party for a book I SUPPOSE I should have read the two prior ones in the series. So, I did. And now I'm wishing I would have waited to do so because now I have until September before Brisingr is released. Oh snap!
I confess that I really thought reading these were going to be a chore. I mean it was written by a 15 year old homeschooled boy. I don't like talking to teenage boys – why would I want to read anything written by one? Plus, I saw the movie. That horrible terrible no good wretched movie – ugh. To my surprise, I quite liked the books. I might have liked them more than I would have otherwise because I was expecting them to be SO bad. But Eragon especially was quite fun to read.  With Eldest, Paolini seemed to lost momentum but hopefully the series may still be redeemed.
I still wish I hadn't had to break my self imposed rule about not starting a series unless all the books in it are already out, but sometimes work is work.