Sunday, March 16th, 2008 by Miss Laura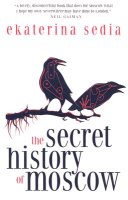 This was recommended to me as the Russian version of Neil Gaiman's "Neverwhere". In fact, it even has a quote by Gaiman on the cover of the book saying the same thing. The quote makes Neil seem a little cocky.
"A lovely, disconcerting book that does for Moscow what I hope my own Neverwhere may have done to London."
While I was a little meh about Neverwhere, I really enjoyed this book. In fact, I've been thinking that it's only fantasy on a young adult level that I like, but I think it's really this sub-genre known as Urban Fantasy that tickles my fantasy. I can relate and get into that kind of story more so than a full out unbelievable fantasy land. Although with all of the Russian fairy and folktale characters which I was completely unfamiliar with, it might as well been an unbelievable fantasy land for me.
I quite liked the characters, the writing, and the storyline in this one. The ending WAS disconcerting and unhappy which sealed the deal for me.