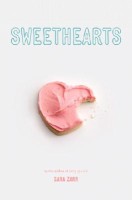 This young adult title comes out on February 1st and is a keeper. It's the story of two friends, Jennifer & Cameron, from childhood who are outcasts at their elementary school. They're picked on, called names, teased mercilessly, and have fairly rough home lives. However, they have each other and they're each other's saviors – more than friends, more than siblings, more of a connection than most of us have experience with at that age. Which is why Jennifer is more than crushed when Cameron disappears one day and later is reported to have passed away.
Jennifer reinvents herself – losing weight, learning to do things for herself that her mother doesn't have time to do (like wash her clothes), and building an emotional facade to protect herself form her peers. She's in high school with a boyfriend and a group of friends – no one to pick on her in sight – when Cameron comes back.
It's a fairly turbulent story line with an ending that is neither neat nor final. It's a quick read and a good read – but far from a happy one.